Concerts & Music
If you love music, then Music at the Movies is for you! Join us in cinemas across Canada for music documentaries, concert films and music movies where you can celebrate your favourite artists with other fans!
Synopsis: Recorded at Copenhagen's Royal Arena in October 2017, Distant Sky captures an extraordinary and triumphant live concert from Nick Cave & The Bad Seeds. Performing new album Skeleton Tree's exquisite compositions alongside their essential catalogue, the band's first shows in 3 years provoked an ecstatic response in fans, critics and band alike, renewing a profound and intimate relationship wherever they played. The band's acclaimed tour started in Australia in January 2017 before tearing across the USA and ending in Europe, with some of the best reviews of their decorated career. Directed by award winning filmmaker David Barnard.
Dates:
April 12, 2018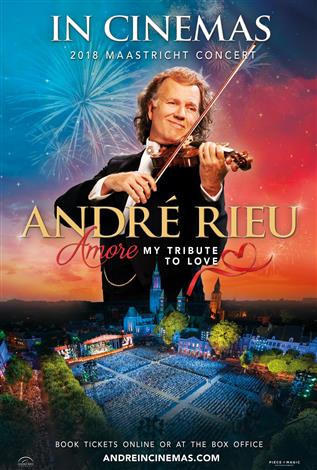 Synopsis: Known to millions as 'The King of Waltz', André Rieu is one of the world's most popular music artists. His legendary annual Maastricht concert is the most eagerly anticipated cinema event of the year, last year setting new box office records in several countries. Set against the stunning medieval backdrop of the town square in André's Dutch hometown, the spectacular Maastricht concert features the maestro in his element, along with his 60-piece Johann Strauss Orchestra, sopranos, tenors and very special guests. André delivers an unforgettable musical experience full of humor, fun and emotion for all ages. This presentation of André Rieu's 2018 Maastricht Concert in Cinemas features host Charlotte Hawkins, who conducts an interview with André Rieu the moment he steps off stage, exclusively for cinema audiences. This summer it will be all about the world of love! Amore, my tribute to love is André's tribute to love, the love for music and for both of his families : the small one, his wife and children - and the big one, the Johann Strauss Orchestra. Take a front row seat and experience this spectacular musical event on the big screen. Enjoy backstage access, interviews with André and his special guests, musical favourites and much, much more, exclusive to cinema.
Dates:
July 28, 2018
July 29, 2018
August 8, 2018
* Presentations may not be available at all participating theatres for all advertised dates.