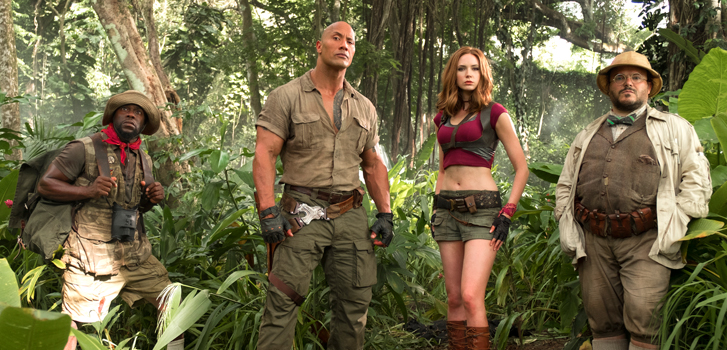 Jumanji: Welcome to the Jungle's Karen Gillan on rebooting a beloved adaptation
How do you say effervescent in Celtic? Try "Karen Gillan."
The Scottish redhead seems overjoyed about, well, everything. And why shouldn't she be? From a stint as one of TV's "Doctor Who" companions to what is emerging as the key role of villainous Nebula in Marvel's Guardians of the Galaxy and upcoming Avengers movies to her soon to be released feature writing-directing debut, there's a lot to be upbeat about.
It's still pretty amazing, though, how when you bring up her latest acting job, as the flesh-and-blood videogame ass-kicker Ruby Roundhouse in Jumanji: Welcome to the Jungle, Gillan all but explodes in delight.
"First of all, I loved the original Jumanji so much. It was in my top three films of all time," enthuses the 30-year-old actor during a West Hollywood interview, her tall frame dressed in a cheery (what else?) white pants and lavender top combo.
"I was a kid, really young, maybe nine, I don't know. I just remembered loving it so much. So when I got the audition for this Jumanji, my mind was blown."
That 1995 Jumanji starred Bonnie Hunt, the late Robin Williams and a very young Kirsten Dunst as players forced to finish a magical board game while wild creatures it unleashed rampaged through their home and town. Welcome to the Jungle has a younger generation of teens discovering a video version of the game and getting sucked into its digital world, where their consciousnesses land in different avatars.
The wimpy kid becomes a muscular hero (Dwayne Johnson). The football jock loses several feet of height and about 100 pounds of his imposing girth (Kevin Hart). The pretty girl becomes an overweight, middle-aged man (Jack Black). And Martha, a shy but woke smart girl played by Morgan Turner, turns into Gillan's toned and inexplicably underdressed fighting machine.
"It's great," Gillan gushes. "The four of us are trapped in a computer game version of Jumanji, in the jungle, dealing with that. Jake Kasdan [Bad Teacher, Sex Tape] directed it, we shot it in Hawaii and my character just doesn't want to be there!"
Gillan assures fans of the original film that, although setting the new Jumanji game in the digital realm requires a new approach, they can expect a similar kind of fun.
"It's very different," she acknowledges. "We definitely honoured the original because I think that was really important, and as a fan myself I'm like, 'You have to honour this!' We're calling it a continuation rather than a sequel. It's like the story has evolved to a sort of more modern audience."
Professionally as well as personally, Gillan understands how deeply people get attached to their beloved fantasy series. She's grateful to have been a part of two, and now perhaps three if this second Jumanji is popular enough to warrant sequels.
"Being part of a franchise that people care about really is a rare thing," she says. "It doesn't happen very often and it just feels real cool to be part of something that people are passionate about. That's how it is with Guardians and it was the same with "Doctor Who". People really cared, and that's so cool."
Next up are the two Avengers movies, 2018's Infinity War and its 2019 sequel, in which bald, blue-skinned and very, very resentful space assassin Nebula guest stars with the rest of the Guardians gang. We think they join Earth's mightiest heroes to save the world from Thanos, the evil alien superentity who also happens to be Nebula's despised, adoptive father.
Even Gillan can't say for sure; Marvel actors never see full scripts during production. But wouldn't it be immensely satisfying if Nebula accomplishes her goal to kill Thanos?
"That would be lovely," Gillan chirps. "I have no idea if she will or not, but I really hope that she gets to because that is her one clear agenda. I think it's really going to help her process getting over all of the abuse."
Uh, that's actually kind of bleak, Karen. But tell us about The Party's Just Beginning, the movie you just wrote, starred in and directed.
"I did, yes!" she says with relish. "It was a really fun experience. I shot it in Scotland, it was a script that I wrote. It's about a girl dealing with the suicide of her best friend. It's one year later and she's having a hard time communicating with anyone, so all of her angst toward the event is coming out in some really destructive ways."
Hmmm. That doesn't sound very cheery, either. What's really going on with you, Karen Gillan?
"That's a valid question," she says between waves of joyous laughter. "I've asked myself the same question. I'm genuinely a happy person. I feel really excited about life and everything. But I just have the darkest taste in everything. I don't know why, I just love dark movies, dark subject matter, horror movies…. And I love playing villains. I don't know why."
Bob Strauss lives in L.A. where he writes about movies and filmmakers.
Jumanji: Welcome to the Jungle Hits Theatres December 20th.