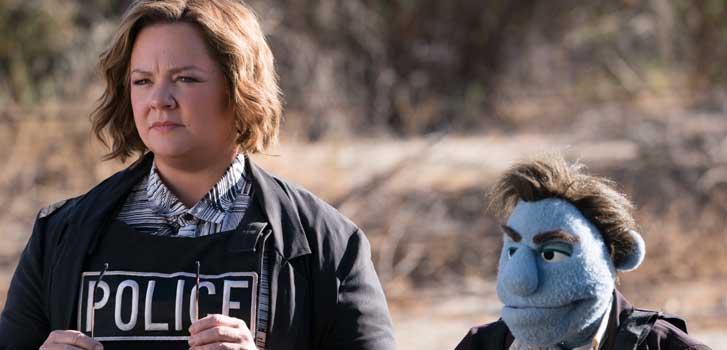 Melissa McCarthy and the cast of The Happytime Murders tell the raunchy truth about working with puppets
Do not take your kids to see The Happytime Murders. This film is made for adults.
Though the comedy takes place in a world where humans and felt puppets live together, even the official synopsis uses words like "filthy" and "underbelly."
Melissa McCarthy stars as LAPD officer Connie Edwards, a human who teams up with Phil, a puppet private investigator, to figure out who's murdering former members of the puppet-based kids show "The Happytime Gang". Elizabeth Banks plays Jenny, a stripper who was the only human member of "The Happytime Gang", while Maya Rudolph is Phil's human secretary, Bubbles. There's sex, cursing, addiction and more sex. The movie also depicts a society plagued by bigotry, with the puppets treated like second-class citizens.
Cineplex's Tanner Zipchen toured the film's Santa Clarita, California, set to see the kind of puppetry innovations necessary for a raunchy puppet movie, like how to make a puppet smoke. It involves a tube and a hand pump.
He also talked to cast members McCarthy, Banks and Rudolph, and their director Brian Henson, son of puppetry pioneer Jim Henson (creator of "The Muppet Show"). The younger Henson is a puppetry legend in his own right, working on TV's "Sesame Street", films like Labyrinth and most of the Muppet oeuvre, as well as taking over The Jim Henson Company as chairman.
Brian Henson (Director)
On making a raunchy puppet movie
"Why did we do it? I feel like we've always been a little bit naughty. The Henson Company is considered a very family-friendly brand, at the same time people go, yeah, but they're cool, they're a little bit naughty. We're not Disney. We're not wholesome in that sense. We are socially responsible, hopefully, but we're kind of the cool and weird ones, so this is us doing that. And I actually am deliberately rating it R because I actually want to make it clear, this is for adults. And if you do a PG-13 and just skate the edge, if I did it, I'd still have an audience full of five-year-olds and that would be a problem."
---
Melissa McCarthy (plays Connie Edwards, a cop investigating puppet murders)
On choosing this movie
"By page two, when I read this, and I'm not exaggerating, by page two I walked out and Ben [her husband, Ben Falcone] was outside and I was like, 'I think I'm in.' And he's like, 'You've been gone 13 seconds, what do you mean?' And I'm like, 'I know, but there's a big street scene of L.A. and they're playing 'I'm Your Puppet.' And he goes, 'Why don't you go read it.' And then I came back out, I'm on page four, 'I'm just saying I really think I'm already in.'"
On her chemistry read with puppet co-star Phil
"I was weirdly nervous. I was so nervous. At first he was on his stand, so it was just Phil, and I was like, 'This is going to be weird. I don't know how this is going to work.' And then I met Bill [puppeteer Bill Barretta] and Bill just immediately put him on and Bill was only talking to me as Phil and I kept trying to look at Bill and Bill just kept putting Phil in front of his face and then the next thing I knew I was having a full conversation with Phil. I was like, 'I think this is going to go great!'"
On doing improv with puppeteers
"They're crazy funny. All of them improvise. You can throw anything at them. Drew [Massey], who plays several things in this, it was like every time he did a take it was completely different, which both delighted and irritated me because I was like, 'Is this written down? 'Cause I really work on this and I think you might just be saying stuff off the top of your head.' And each one was like super-specific, really funny, completely different."
---
Maya Rudolph (Bubbles, Phil's secretary)
On the story
"It's clearly thought out from the world of someone who thinks like a puppet and thinks about puppets before they think about people, and that's Brian [Henson]. That's really him living the experience of working with puppets his whole career, seeing their ins and outs and their everyday. And it's really fascinating how it's translated in the human world."
On the dark side
"We all feel connected to these puppets. We want to see them in real-world circumstances. That's kind of like the payoff of all these years of having these puppets in our lives. It's kind of like, 'Oh my god, I'm getting to see them, you know, barf on the street, have sex and curse somebody out.'"
On getting attached
"One thing I didn't anticipate is that I really feel connected to Phil. And he's a puppet, so I don't get to see him all the time, and if I haven't been at work in almost two weeks I really miss him. You know, I work with Bill [Barretta], but I work with Phil too."
---
Elizabeth Banks (Jenny, a stripper and former cast member on "The Happytime Gang")
On the social commentary
"For me you're making a movie that's about something. We're not just here to entertain, we actually want to say something with everything that we do as artists. And I feel like the opportunity here was to talk about marginalized communities, and racism, and misogyny and how we approach marginalized communities generally as a society, and historically. There's a lot at work here, which is really interesting. But we're having fun at the same time."
On the puppeteers
"The amazing thing about working with puppets is you really feel connected to them. They're really actors. They're great performers. They are really and truly hilariously funny. They have great bits that they've all been perfecting over the many, many, many years that they've been doing this art form and they have a great rapport with each other."
The Happytime Murders hits Cineplex theatres on August 24th. Click here for tickets and showtimes.